Lorry driver jailed for £8m cocaine smuggling attempt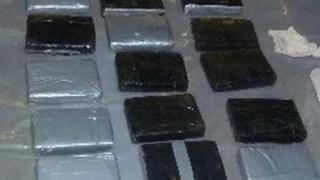 A lorry driver from Lancashire has been jailed for eight-and-a-half-years for trying to smuggle 45 kilos of cocaine through the port of Dover.
Stephen John Newland, 49, of Manor Avenue, Burscough, was sentenced at Canterbury Crown Court on Tuesday.
He had admitted a charge of being knowingly concerned in the importation of a controlled class A drug.
A search of his vehicle found cocaine in a false bulkhead in the cab with a potential street value of up to £8m.
Newland was stopped by border officials on 6 July as he arrived at Dover's Eastern Docks on a ferry from France.
He told officers that he had not brought a load of any kind back to the UK and had been to France in order to transport a friend's personal effects from the north to the south of the country.