Sir Norman Bettison 'referred' over Hillsborough conduct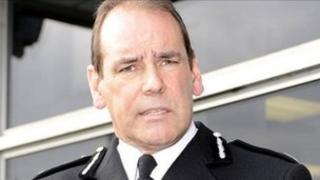 The conduct of a senior police officer involved in the Hillsborough disaster is to be investigated.
Sir Norman Bettinson, now West Yorkshire's chief constable, has been referred to the force's police authority.
He was an off-duty inspector with South Yorkshire Police at the game and took part in an internal inquiry after the 1989 tragedy.
The police authority committee oversees the conduct of top police officers.
Ninety-six Liverpool supporters died in a crush at Sheffield Wednesday's Hillsborough stadium on 15 April 1989.
Sir Norman had faced calls to resign following the Hillsborough Independent Panel's report into the tragedy.
The report's contents were "shocking and very disturbing" West Yorkshire Police Authority said.
'Nothing to hide'
The report, published on Wednesday laid bare a police cover-up which attempted to shift the blame on to the victims.
The chair of the West Yorkshire Police Authority, Mark Burns-Williamson, said the committee would review the report in detail and would take "whatever action is appropriate".
In the meantime Mr Burns-Williamson said the matter had been referred to the chair of the authority's Special Committee after speaking with the chief constables of West and South Yorkshire.
The Hillsborough Independent Panel's report found 164 police statements were altered, 116 of them to remove or alter "unfavourable" comments about the policing of the match and the unfolding disaster.
In a statement issued earlier, Sir Norman said: "I never altered a statement nor asked for one to be altered.
"I really welcome the disclosure of all facts that can be known about the Hillsborough tragedy because I have absolutely nothing to hide."