Donington Park's Dunlop Bridge auctioned for charity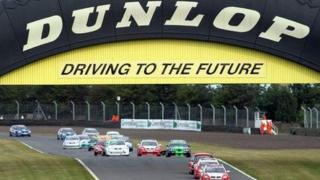 Racing memorabilia from Donington Park circuit has sold for more than £1,500 at auction.
Items included panels from the famous Dunlop Bridge, which spanned the circuit for more than 30 years and a Pirelli clock.
Other sale items included a model of the World Land Speed Record car, Project Blue Star, which sits on top of the Old Hairpin bridge.
Proceeds will go to the Leicestershire charity Hope Against Cancer.
Tyre company Dunlop originally paid for the bridge to be put over the Donington track in 1977.
Christopher Tate, managing director at the circuit, said the bridge was taken down in 2009 during the previous owner's bid to host the British Grand Prix.
He said: "It has just been lying there in twenty pieces in a yard, which needs tidying up - so somebody had the idea of auctioning it off.
"Every now and then you've got to make some changes and we've got to tidy up the yard."
He added: "We don't need a broken clock and land speed records from the 1970s might mean something to a certain generation, but not to the new fans of car and bike racing."