Red Arrows announce new line-up for 2013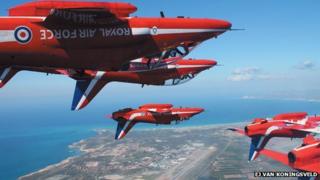 The Red Arrows have announced details of their new line-up for the 2013 display season.
The team will get three new pilots and return to a nine-ship formation after flying with seven for much of 2012.
This followed the deaths of Flt Lt Jon Egging and Flt Lt Sean Cunningham, who were both killed in separate incidents last year.
The team's first female pilot, Flt Lt Kirsty Stewart, moved to a ground-based role in March.
New recruits
The three new pilots are: Flt Lt Mark Lawson, 34, from Harpenden - Flt Lt Steve Morris, 31, from Sheffield, and Flt Lt Oliver Parr, 36, from Bath.
The team also has a new manager, Sqn Ldr Ruth Shackleton. Sqn Ldr Jim Turner remains as team leader.
Pilots and support crew leaving the Red Arrows will return to operational duties with the Royal Air Force.
The new Red Arrows pilots all have a minimum of 1,500 flying hours and have been assessed as being above average ability. They have also completed at least one fast jet frontline tour of duty.
Training begins at RAF Scampton, in Lincolnshire, as soon as the last display of the current season is completed.
Since the team's creation in 1965 the Red Arrows have flown more than 4,300 displays in 55 countries.
Earlier this year, the Red Arrows flew over Belfast, Cardiff, Edinburgh and London to celebrate the opening ceremony of the Olympic Games.