A303 dualling plan through South West 'supported by businesses'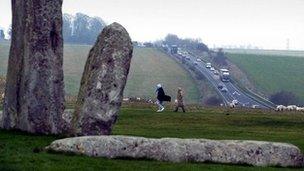 More than 90% of commuters and businesses in the South West back an upgrade of the A303, a council survey has found.
The trunk road is the shortest route for those travelling from London and the South East, to Devon and Cornwall.
Motorists were asked about the benefits to dualling sections of the A303, which often has delays at certain points.
The survey found 90% of businesses in the South West felt they would benefit from an upgrade.
The same number also identified journey time reliability as a problem to their business.
Councillor David Hall, from Somerset County Council, which is leading a consortium of local councils, said they would continue to lobby for the plan.
Almost 700 business were questioned during the survey while another 672 tourists were also asked for their views.
Related Internet Links
The BBC is not responsible for the content of external sites.