Cancer fundraisers camp for new Apple iPhone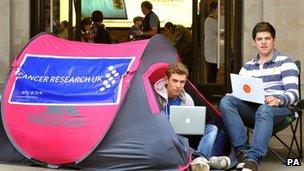 Two charity fundraisers are camping outside Apple's flagship store for a week to become the first owners of the new iPhone 5, which they plan to sell.
Ryan Williams, 22, and Peter King, 19, both from Kent, hope to raise thousands of pounds for Cancer Research UK by selling four handsets each.
Mr King's mother Sue died from cancer three years ago and a friend of Mr Williams has bowel cancer.
The new smart phone, which costs more than £500, goes on sale on Friday.
The pair, who arrived at the store in Covent Garden on Friday with just mats to sleep on, have since been given £130-worth of camping gear by a passer-by.
Mr Williams, from Swanley, said: "We're on our own at the moment, the shop manager said it will be a few days before other people start to queue.
"We've had some strange looks from some people but also a lot of support from others and people on Twitter."
They plan to auction the phones to people who do not want to join the massive queues expected on Friday, with all funds going to Cancer Research UK.
Lynn Daly, from Cancer Research UK, said: "Our supporters find many weird and wonderful ways to raise money for us, often motivated, like Ryan, by someone close to them dealing with cancer.
"It will no doubt be a long, lonely wait in all weathers for Ryan to get his phone so we salute him for his ingenuity and determination.
"However much he raises, it will be a welcome contribution to our work to prevent, diagnose and treat all types of cancer.
"And I'm sure it will be a great boost to his friend to know he is doing his bit to help him fight this disease."
Related Internet Links
The BBC is not responsible for the content of external sites.