Suffolk MP welcomes Brandon's free school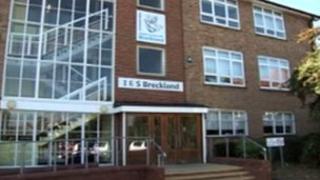 When it was announced that a free school run by a foreign company would open in the town of Brandon in Suffolk, many questioned whether it could be done.
But seven months on, IES Breckland is open.
"It was a mammoth effort getting everything ready in time but it's all been worth it," says the principal, Sherry Zand.
"We only got the keys to the building at the beginning of August, and the weekend before we opened we had the staff, children, parents, grandparents, even the local US air base, all in here painting, scrubbing, cleaning and cutting the grass."
"To then see the children come in on the Monday and look around in amazement at the transformation made it all worthwhile."
High standards
The school was set up by local parents after Brandon's only middle school closed.
Two hundred and twenty students between the ages of 11 and 13 have enrolled - more will follow when the school expands to take those from higher years.
The company, Internationella Engelska Skolan, which runs 19 schools in Sweden, is behind the venture.
It has provided money for school buses and renovating the school as well as helping train staff.
They are steeped in a very Scandinavian ethos, treating children as individuals, while at the same time expecting high standards from them.
Some ideas, like allowing pupils who don't want to play outside at break time to remain in a student 'social room', might raise eyebrows.
However, there is a big emphasis on healthy eating - with crisps, sweets, chocolate and sugary drinks banned.
Other innovative ideas include extending the school day to 4 pm for "enrichment activities" on Wednesdays, and student mentors will be introduced.
Parental involvement
Local MP, Matthew Hancock, was guest of honour as he was shown around the new school.
Every classroom had new furniture and equipment.
The children in their new uniforms said how glad they were not to have to travel out of town to go to school.
"It is hugely motivating to have passed a law in parliament which allows parents and groups to open a school," he said.
"If it weren't for the free school, this school would be closed and there wouldn't be a secondary school in town."
These are still early days for the free school experiment, with ministers privately admitting that some of those which have been set up will fail.
The school community in Brandon is confident they won't be one of them.