London Midland ticket office closure plans overruled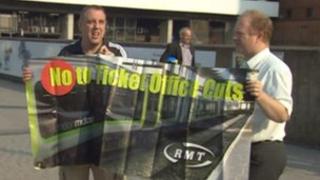 Plans by London Midland to close ticket offices at five West Midlands railway stations have been overruled by Transport Minister Norman Baker.
Offices at Small Heath, Jewellery Quarter, Bescot Stadium, Duddeston and Adderley Park will remain open with reduced hours, London Midland said.
But office closures were approved at Witton, Lye, Wythall in Worcestershire and Cheddington in Buckinghamshire.
London Midland said less than half of tickets are bought across the counter.
Mr Baker said the changes reflected "the change in the way passengers are buying tickets, with more choosing to purchase their tickets online or at ticket vending machines".
He added several ticket offices would have their opening hours extended, while a number of other stations would have their office opening hours reduced.
'Save millions'
Mr Baker said: "There are currently many ticket offices open for very long hours, while selling very few tickets indeed.
"In an era where passengers are telling us that they need fares to come down and investment in services to rise, these sorts of costs simply cannot be justified."
He claimed these changes would "ultimately save millions of pounds".
London Midland said it was pleased the Department for Transport had "accepted the need" for it to review its ticket office opening hours.
At many stations "there are periods of the day when few or even no tickets are bought" from its ticket offices.
It said there would be an extra 29 ticket vending machines at stations which do not currently have them.
London Midland commercial director Richard Brooks said: "The reductions in opening hours will be concentrated at the beginning and the end of the day or on Sundays, so most passengers will see no change at all."
Protests were held in July at some railway stations in the West Midlands region over the proposals.
A TUC spokesman said it "would welcome the government's decision to overrule London Midland", but added it still had "the same concerns about the service to the public being reduced".