Chris Evans bought Donington Park's Dunlop bridge 'by accident'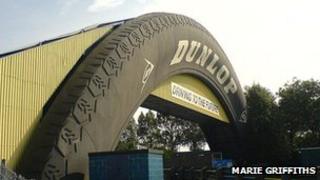 Radio 2 DJ Chris Evans said he had no intention of buying Donington Park's famous Dunlop bridge when he visited a racing memorabilia auction on Saturday.
He said he went to the sale to look at other items when the 30-year-old structure went under the hammer.
"I ended up bidding for it because [I thought] it can't not go anywhere. I couldn't believe Donington were selling it," the presenter said.
He added: "This is no campaign [to save it] I sort of bought it by accident."
Evans, who also presents The One Show, bought the 16 panel pieces which made the arch that decorated the footbridge, for £300.
'Work of art'
"It's famous around the world and I thought if they don't want it I'll try and put it in my garden if the authorities will let me," he said.
"It's a work of art, a national icon."
The bridge which is over 70 metres (230 ft) in length was taken down in 2009 during the previous owner's bid to host the British Grand Prix.
It was lying in pieces in a yard when the decision was made to auction it off for charity.
"It's a mighty size, first thing I've got to do is to figure out how to get it back down south," said Evans.
Christopher Tate, managing director at Donington, said: "Every now and then you've got to make some changes and we've got to tidy up the yard."
Other sale items at the Bonhams auction included a Pirelli clock and a model of the World Land Speed Record car, Project Blue Star, which sits on top of the Old Hairpin bridge.
The items fetched over £1,500 during the auction. All of the proceeds will go to the Hope Against Cancer charity in Leicestershire.