Alan Norton seeks DNA test to overturn murder conviction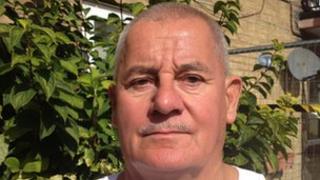 A man who spent over 30 years in jail for murdering his sister is demanding DNA tests to overturn his conviction after passing a lie detector test.
Alan Norton, 69, of Portsmouth, has always denied stabbing his 10-year-old sister Joy to death in Jersey in 1965.
He said DNA testing, not available in the 1960s, would prove his innocence.
However, Jersey's Attorney General's office said that none of the agencies to whom the forensic samples were sent in 1966 had retained them.
'I want justice'
Joy was found in a field with multiple stab wounds, and had been sexually assaulted.
Norton believes his sister's dress could hold clues to who murdered her, and wants the Jersey authorities to track it down.
He claims that a lie detector test he passed proves his innocence, and he and his solicitor are calling for Jersey police to find the dress.
"I want a DNA test to clear me completely and I want justice for my sister - justice for Joy," Norton said.
"I'm not angry and I don't want to pillory somebody, I just want justice.
"Anger and all that is bad for you because it just upsets you and makes you bad. I'm not after vengeance."
'Went to pieces'
Norton believes the person responsible for his sister's death is the same person who killed Finnish au pair Tuula Hoeoek in 1966.
Ms Hoeoek is thought to have been picked up from a bus stop in Georgetown, Jersey, on New Year's Eve, and taken to a field and beaten to death with a weapon.
He said there were similarities between the two murders, and no-one had ever been caught for killing Ms Hoeoek.
Speaking of his time in jail, Norton said: "It was horrible - for the first six years I went to pieces... I got to the stage where I wanted to commit suicide.
"Obviously I didn't have the courage to do it - it takes a lot of courage to do a thing like that - and after that I just had to pull myself up and work my way to where I am today."
Norton was released from jail in 1996 but said he could have been paroled years before if he had shown remorse - something he refused to do for a crime he says he did not commit.
He said he had been working to try to track down DNA evidence ever since his release.
A spokesman for the Attorney General in Jersey said Norton and his solicitor had been informed what material still existed.
"They were told that none of the agencies to whom the forensic samples were sent in 1966 still retained the samples.
"According to the information which we have, it does not appear that there is any material still in existence which would be suitable for DNA examination."
A spokesman for Jersey Police said the force was not reopening the case.