Bow armed siege: Police at barricaded home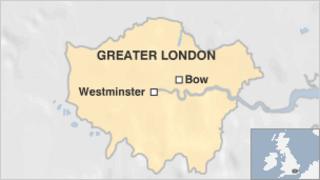 Police fired a Taser at a man armed with a knife to end a four-hour seige at a house in east London.
Police were called to the property in Jodrell Road, Bow, at about 10:00 BST.
They surrounded the property - which the man had barricaded - leading to a stand-off with the man.
London Ambulance Service crews were put on standby. Police eventually entered the building and disabled the man with a Taser. His condition is not known.