Live animal exports from Ipswich after Ramsgate suspension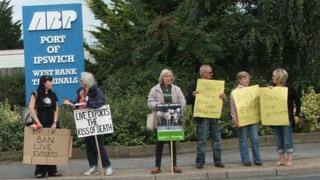 Live animals are being sent abroad from the Port of Ipswich, a week after the exports were suspended in Kent following the deaths of 45 sheep.
Thanet District Council put a stop to exports from the Port of Ramsgate last Thursday, a day after sheep died in two separate incidents.
Actress Joanna Lumley said she was "horrified" Ipswich was supporting "the horrendous live export trade".
The Port of Ipswich said it was "legally bound" to handle the traffic.
A spokesperson for Associated British Ports, which owns the port, said: "The shipment of livestock is a legal trade in the United Kingdom, monitored and regulated by government agencies such as Defra."
'Vile trade'
About 20 protesters gathered at the port on Friday afternoon, awaiting the arrival of the vehicles carrying the livestock.
Ms Lumley, a patron for Compassion in World Farming, said: "I urge the port owners to refuse to allow this notorious boat to use their facilities.
"I have no doubt that the majority of Ipswich townsfolk will be horrified to find this ugly trade in animal misery on their doorstep."
The RSPCA, which says Ipswich is now the only port in the UK exporting live animals to Europe, is to assess the condition of the animals.
Chief executive Gavin Grant said: "I, like my colleagues, and all those who fight for the animals, breathed a sigh of relief last week when we heard that there had been a suspension of this awful trade at Ramsgate.
"But now we feel somewhat cheated and bitterly disappointed that this vile trade has just been shifted through the back door and is trying to carry on at a different port."
Thanet council, which owns the Port of Ramsgate, had said its ban will be lifted once suitable facilities for animals are built there.
Forty-three sheep were put down last Wednesday after a lorry was stopped at the port. The drivers were arrested and bailed.
In a separate accident, a loading area floor collapsed while the sheep were being taken off the lorry and two more drowned.