Piltdown Man hoax centenary event held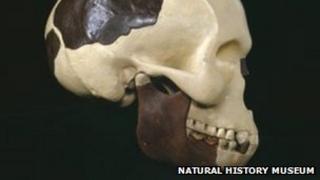 Archaeologists are meeting to discuss the Piltdown Man controversy, 100 years after the faked fossils were presented to the world.
In 1912 remains of a human ancestor were claimed to have been discovered at a gravel pit in Piltdown, East Sussex.
But in 1953 the remains - said to be a "missing" link in the evolution of man and apes - were subjected to new tests and proved to be a hoax.
Dr Matthew Pope of University College London said the event was overdue.
He has organised a conference in Lewes, where Charles Dawson the principal "discoverer" of the hoaxed Piltdown remains, worked as a lawyer.
'Earliest known Englishman'
Dawson, an amateur geologist, claimed to have been given skull fragments by workmen digging at Barkham Manor in Piltdown in East Sussex.
He then claimed to have found more bones and animal fossils at the site, along with his friend Arthur Smith Woodward, the keeper of geology at the British Museum (Natural History).
They presented their "finds" to the world as the "earliest known Englishman".
In 1953 new tests showed the the fragments had been changed to look older than they were - the skull was actually medieval and the jawbone had come from an orangutan.
Experts from the British Museum in London are discussing the historical context of the fraud.
Scientists from the National History Museum, Southampton University, Bournemouth University and the University of the Witwatersrand, Johannesburg, are also talking about the artefacts, their legacy, those suspected to be behind the hoax and new research findings.
Dr Pope, senior research fellow at UCL's Institute of Archaeology, said: "This is long overdue for archaeologists here in Sussex to mark the centenary of the Piltdown fraud.
"We're gathering in Lewes [on Saturday] for a conference with experts from the National History Museum the British Museum and other universities to discuss the latest thoughts and ideas on the fraud and hoax."
He added: "It's a very primitive, very basic fraud. The hoaxers took a relatively recent robust human skull, modified an orangutan jaw, found the two together and presented them as a single individual.
"It kept scientists fooled for quite some time."
Dr Pope said: "There is a prime suspect, one name that keeps coming up in all inquiries is the finder of the skull, Charles Dawson, the solicitor from Uckfield.
"The question really is did he act act alone, did he have accomplices?
"There's still some controversy about it but I think most people accept that Charles Dawson was up to his neck in this particular hoax."