Ambulance boss Tony Athersmith's GB American football role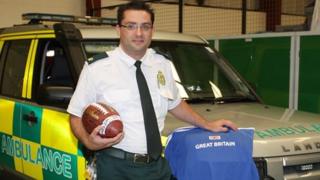 By day, ambulance manager Tony Athersmith plans how to deploy a fleet of crews to get patients to appointments on time.
By night, the West Midlands Ambulance Service transport manager works on strategies for 6ft-plus men in shoulder pads to enable them to score touchdowns.
It is is part of his new role as a coach for Great Britain's first official student American football team.
"Both jobs involve strategic thinking, always trying to plan ahead, trying to work out how to do it better," he said.
"I think a lot of my business and coaching skills cross over and can relate to each other, it's about making best use of the resources you have to get to a winning outcome."
The 38-year-old has been involved in the sport since he was 11, when he went to a training session of the Stoke Spitfires team.
"The youth team coach used to live in the next street to me in Shelton," he said.
"Playing against other lads in those practice sessions, it gave me the bug for being involved in the sport almost instantly and that has stayed with me."
'Chess match'
Mr Athersmith played at running back, before converting to quarterback when he was 13, "because I could throw a ball about a bit."
"We had some really, really good American coaches and they had a major influence on me," he said.
"They got me looking at the game in more depth than I could get from just watching it on the TV and in my late teens I got interested in the strategy of the sport.
"There's a lot beyond just the hitting and throwing and catching a ball, it's really strategic, it's like a chess match with shoulder pads."
At aged 19, Mr Athersmith quit playing and started coaching.
It took him to Staffordshire, Loughborough and Birmingham universities in 2004, where he enjoyed his most successful spell after being appointed head coach in 2006.
"It was the most fun I've had working with a team. We won 38 games, only lost one and in the last two years we went undefeated and won two national titles."
He also won the British American Football Coaches Association (BAFCA) coach of the year award in 2009, but had to give up the role because of work commitments.
"After three years of being a head coach, which is an involved job, it just became too much to take on and I had a chance to develop my work career."
He is now the transport manager for WMAS for non emergency regional operations, where he co-ordinates the fleet of ambulances that are not on emergency calls.
Student Games hope
Last month, he was appointed as the offensive co-ordinator for the first ever official Great Britain student American football team, run by the governing body the British American Football Association (BAFA).
He said that getting the balance between work and sport would be much easier this time around.
"We've got a training camp in December, a couple of practices in early 2013 and then we play a landmark match against Sweden in April, so my time commitments are not major and I can fit that around my work."
"For anybody who takes part in any sport in any competitive manner, it's an extremely great honour to be asked to represent your country."
Mr Athersmith said it was the ultimate goal of BAFA to develop the sport to compete in the World Student Games against other nations.
American football is not a compulsory sport in the games but he said it was hoped organising committees in Korea (2015) and Chinese Taipei (2017) would add it as an optional sport.