Manchester police deaths: Force requests cover for funerals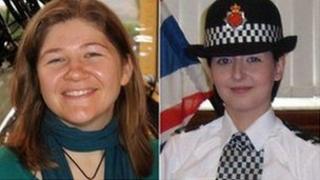 Greater Manchester Police has asked for officers from across the UK to cover colleagues attending the funerals of PCs Nicola Hughes and Fiona Bone.
The services for the PCs, who died in an attack last Tuesday, take place at Manchester Cathedral next week.
Senior officer Ian Hopkins asked for all UK police forces to "identify two officers [to] provide support".
The request follows a campaign which saw hundreds of serving and retired officers offer to provide cover.
Dale Cregan, 29, has been charged with the officers' murders, along with those of two other men.
Mr Hopkins, deputy chief constable of the force, said it had been "overwhelmed with messages of condolence and offers to provide whatever support we need".
He said the response to the Cover For GMP campaign, which was launched in the aftermath of the officers' deaths by police blogger "Constable Chaos", had been "incredible and something we have never seen before".
He added that as a result, the force were "keen to bring in colleagues from other forces to work with us and help us through the difficult days next week".
"To achieve this, we have asked the Police National Information Co-ordination Centre, and forces will be asked to identify two officers who have the relevant training and can come to Greater Manchester and provide support."
He said the force was still working with the families of PCs Bone and Hughes to finalise the details of the funerals, which will take place on Wednesday 3 October and Thursday 4 October.
However, he said other officers who wanted to come to Manchester and "pay tribute to Fiona and Nicola can line the route to Manchester Cathedral along Deansgate".
He added that he wanted to "thank everyone for their kind messages and offers of support".
"The response to the terrible events last week have been a great source of comfort to the families, friends and colleagues, in fact to the whole of GMP," he said.