Highways Agency seeks views on M25 speed change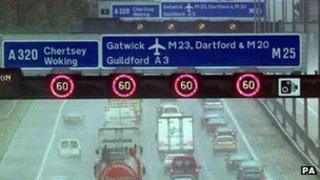 Views are being sought on a plan to enforce variable speed limits on a stretch of the M25 after the hard shoulder becomes a fourth lane.
A £250m scheme to create the extra lane between Junction 5 in Kent and Junction 7 in Surrey, which links to the M23 and Gatwick, Sussex, starts in November.
The Highways Agency has begun a six-week consultation about the motorway speed limit change.
Highways Agency spokesman Martin Potts said M25 traffic flow would improve.
The M25 junction 5 to 7 scheme will be the first managed motorway in the South East region, the Highways Agency has said.
'Stop-start traffic'
Mr Potts said the agency wanted to hear from key stakeholders, the haulage industry and other groups.
"We have got a road that currently runs nominally at 70mph, albeit when there is congestion the traffic is flowing at somewhat less than that," he said.
"By introducing variable speed limits at times of congestion we step the speed down to 60mph and 50mph.
"This is important because in stepping those speeds down, we're controlling flow."
Mr Potts said a similar scheme on the M42 in the West Midlands had led to a reduction of about 50% in incidents on the road. He also said accidents on the road had become less severe.
Similar controlled motorway schemes had also led to improved journey times on the M40 near Lapworth and the M6 near Birmingham.
The M25 scheme will see emergency refuge lay-bys along the stretch of the road, CCTV installed and electronic signs on gantries, which will all be used to deal with lane closures, road accidents and other incidents, Mr Potts said.
The Highways Agency said the scheme will add "much-needed extra capacity" to that stretch of the London orbital motorway.
The technology behind the variable speed limit system uses sensors in the road surface to detect the speed, volume and flow of traffic.
The system then calculates the optimum speed to keep traffic moving and reduce "stop-start" traffic, which leads to congestion.
Electronic signals on gantries are used to display the speed limit.
The M25 scheme is due to be finished in 2014. Consultation on the speed limit change runs until 5 November.