Brittany Ferries dispute resolved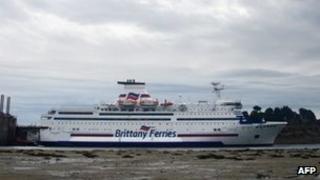 Brittany Ferries sailings are to resume on Tuesday after a deal was agreed with staff who went on strike.
Nearly 1,300 crew members staged several wildcat strikes over proposals to withdraw allowances and change working hours.
The firm responded by cancelling all crossings from 21 September.
Tens of thousands of passengers were affected by the action which hit the firm's ferries from Portsmouth, Poole and Plymouth to France and Spain.
Eight ferries have been laid up in French ports since the firm stopped its services.
A spokesman said a majority of crew members voted on Sunday to accept a deal from the firm which has lost money for the last three years.
It includes an end to wildcat strikes, an extra 11 hours a year working time, more multi-tasking and an end to free meals when staff are not on duty.
There will also be fewer off-peak sailings "to match demand" and the threshold in which staff will get a profit-related bonus will be reduced.
Martine Jourdren, group managing director, said: "Whilst this strike has caused immense disruption for our customers, for which we are very sorry, we could not continue with a situation whereby 24-hour strikes were being called at a moment's notice.
"The company has worked hard to negotiate an agreement with the unions which achieves the cost savings and productivity improvements that we were seeking, as well as removing the prospect of any further strike action. "
The dispute has so far affected 55,000 travellers and 4,500 trucks.
The firm advised on its website that anyone already booked on the Tuesday sailings should check in as normal.
Anyone else is advised to book before arriving at the port because "sailings may be limited".
The firm said its arrangements for passengers to take an alternative route during the strike between Calais and Dover would stay in place until Thursday.