Midlands questions waiting for Mr Cameron in Birmingham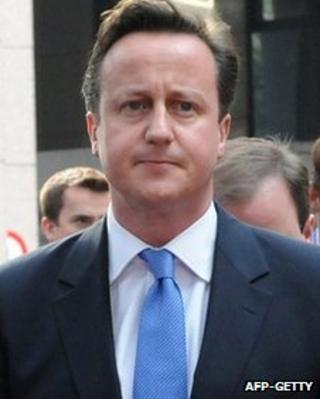 David Cameron will arrive in Birmingham this weekend for his third party conference in the city in the space of five years.
The big difference this time is that Birmingham is a Labour city now, following the defeat of the Conservative-Liberal Democrat coalition which had been in charge for eight years.
The Midlands are famously full of electoral see-saws with a history of tipping elections this way and that between the two biggest parties.
So there could be no more salient setting for a conference where Mr Cameron and his colleagues will be hoping to put a dent into Labour's opinion poll lead.
As the Prime Minister prepares for this critical mid-term conference, I will have an opportunity to question him about subjects of concern to the West Midlands.
If you have any suggestions as to what I might talk to him about, click on the comments section below and I'll do my best to put your questions to him, within the limited time available.
Here are a few topics and thoughts that might help fire your ideas:
Jobs
According to the Office for National Statistics, 92,000 jobs were created in the West Midlands during the year to June 2012.
Parts of Birmingham, Solihull and East Staffordshire are delivering new jobs as fast as anywhere in the UK.
But regional unemployment remains above the national average and has climbed for the past two months.
There are worrying concentrations of structural unemployment, especially among young people and women, in parts of Birmingham, the Black Country, Coventry and North Staffordshire which appear increasingly disconnected from the more dynamic economic areas.
Regional pay
Some senior ministers think public sector employees like nurses and teachers should be paid differently from one part of the country to another.
They say the present 'one size fits all' approach is unresponsive to the real economy and militates directly against jobs being relocated to the very areas that most need them.
But Labour say regional pay would exacerbate the north-south divide and some critics suspect it may be used as a pretext for cutting the public sector wage bill.
Airports
While the government is embroiled in the debate over whether or not to build a third runway at Heathrow, Birmingham Airport has capacity for nine million more passengers a year than it currently handles.
With its new runway extension due to become operational in 18 months' time, could it cater for more of the Midlanders who currently add to the congestion at London's airports?
Or with a high-speed rail link could it even be developed as a major UK hub itself?
Which of course begs one last question...
HS2
With mounting speculation that senior cabinet ministers are out to kill it off, is Mr Cameron still as enthusiastic about HS2 as he was two years ago when he told me it was "a transformational project"?
Whip's home conference
One prominent Conservative MP who may decide to give his home town party conference a miss this year is the Right Honourable Member for Sutton Coldfield and Chief Whip, Andrew Mitchell.
Even before his confrontation with police officers in the so-called 'Bikegate' or 'Gategate' incident in Downing Street, the Politics Federation had started putting up advertising billboards around the International Convention Centre.
The billboards were aimed at leaving the government in no doubt about their sense of grievance over a range of issues from cuts in police budgets to changes to their pensions arrangements.
The Chief Whip, though important within the government, is never much in the public eye.
Don't be too surprised if this time he adopts an even lower profile than usual.
But this weekend's Sunday Politics will certainly not be hunkering down in the shadows.
We will be live from Birmingham from 11.00 on BBC One on Sunday, 7 October 2012.