PCC election: A return to local control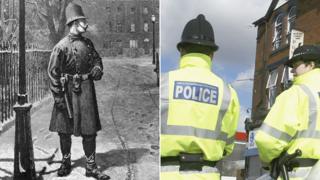 For the first time in England and Wales, police and crime commissioners (PCCs) will be elected to replace police authorities. It is being hailed as the biggest shake up of policing in 50 years. Electing only one official in this way is new in Britain, but the level of locally elected control has been seen before.
In the 19th and early 20th Century there were locally elected "watch committees" who oversaw policing with little interference from the Home Office.
The idea originated in Glasgow, where in 1800 a force held the first recorded watch committee in Britain.
They were elected by the public to oversee Glasgow's new police force, pre-dating Sir Robert Peel's Metropolitan Police. The idea for these committees then slowly travelled south.
Dr Chris Williams, a police and crime historian from the Open University, said their power was "symbolic of a city's independence".
Watch committees had the power to hire and fire members of their forces, which PCCs will also be able to do, and were able to influence operational policy.
In the 1880s in Liverpool, for example, the watch committee - against the advice of the chief constable - gave the order to shut down brothels.
Dr Williams said the government was not comfortable with how much control watch committees had and there were thoughts that local police control led to increased corruption.
The historian said the Home Office used examples of corruption as an excuse to prevent police being controlled by an elected committee. The introduction of the 1964 Police Act saw local powers stripped away.
The act brought the introduction of police authorities which were accountable to the Home Office and are now being replaced by PCCs.
Dr Williams said the new roles would not have the same level of operational control as the watch committees, but the move did bring policing power "back to the people and back to the past".
The board which is overseeing the current change hopes that elected PCCs will have a high public profile in their area so people will know who to go to when they want to influence the policing agenda.
'Unique roles'
Simon Duckworth, chairman of the PCCs transition board, said: "PCCs have great potential to bring fresh thinking to age old problems such as persistent reoffending, and newer challenges like how the police service can do more with less.
"PCCs also have exciting scope to improve the criminal justice system. These are unique roles with no exact parallel across the world."
While in the past there was little communication between the different watch committees, today in an age of rolling TV news and instant social communication, unfavourable decisions by PCCs could come under instant scrutiny.
And, as with any constitutional change, there are concerns, with some candidates fearing voter turnout on 15 November could hit "rock bottom".
Professor Ian Loader, from Oxford University, said it could be seen as an "experiment in extending and enhancing democracy".
"Like any experiment it could fail, but there are merits in trying new things and finding ways of ensuring police forces are more transparent and accountable to the people they serve," he said.
There are flaws, Prof Loader added, especially as some PCCs will have huge areas to cover - Greater Manchester's force covers a region of about 2.5 million people.
He said: "It's a mistake to think this can be done by one individual. There are also dangers of one individual holding a lot of power."
There are further worries that the new commissioners would "step on the operational toes" of the chief constables, added Prof Loader.