Derek Slade: Sexual abuse claims from pupils in India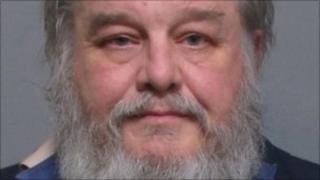 Eight teenage boys who allege they were sexually abused by their English headmaster at a school in India are seeking compensation.
Lawyers have been instructed to pursue claims on behalf of the ex pupils of Anglo-Kutchi Medium School in Gujarat, where Derek Slade was headmaster.
Slade was jailed for 21 years in 2010 after he was found guilty of sexually abusing 12 boys in Suffolk.
He became involved in the funding and building of Anglo-Kutchi in 2001.
A six-month investigation by journalist Roger Cook for the BBC's Inside Out programme uncovered the allegations of abuse.
The boys are claiming compensation from three defendants who they say owed them a duty of care because they ran the school which employed Slade.
The claim is being made against Derek Sawyer, former leader of Islington Borough Council and former chairman of the London Regional Courts Board, Abdul Osman, Labour Lord Mayor of Leicester, and the charity Help a Poor Child, which supported the school.
'No knowledge'
Alan Collins, partner at Pannone Solicitors which is representing the claimants, said that if a civil case was proved it would demonstrate Slade's regime in India was similar to what occurred at the private schools in Wicklewood, Norfolk, and Great Finborough, Suffolk.
Mr Collins said: "We hope that anyone who was approached to donate monies to the school or assist financially in any way will come forward, as they may be able to provide information which may help the victims of Derek Slade."
Derek Sawyer's solicitor issued a statement which said Mr Sawyer "had no management responsibilities at the school and did not employ Mr Slade" and that "he had no knowledge of any sexual abuse allegations at the relevant time, and obviously he utterly condemns any such behaviour".
Mr Osman said: "If these acts are proved to have taken place, I condemn them absolutely.
"I was not responsible for employing Derek Slade nor for protecting children from him.
"Accordingly, if any proceedings are issued they will be defended."
The case has yet to reach the courts.