Hillsborough: Police chief Sir Norman Bettison to retire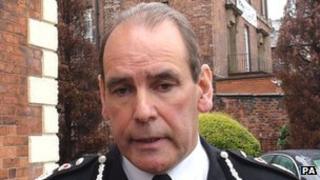 West Yorkshire's Chief Constable Sir Norman Bettison is to retire in the wake of the Hillsborough report.
He announced he planned to leave the service on 31 March 2013.
Last month, he was referred to the police watchdog over his conduct after the Hillsborough disaster in 1989 in which 96 Liverpool fans died.
At the time of the tragedy he was a South Yorkshire Police inspector who attended the match as a spectator and later took part in an internal inquiry.
In a statement Sir Norman said: "Recent weeks have caused me to reflect on what is best for the future of policing in West Yorkshire and I have now decided to set a firm date for my retirement."
'Loss to policing'
He added: "I hope [my departure] will enable the Independent Police Complaints Commission (IPCC) to fully investigate allegations that have been raised about my integrity.
"They need to be fairly and fully investigated and I welcome this independent and formal scrutiny."
Sir Norman said the timing of his retirement would enable the county's police and crime commissioner, who will take up office on 22 November, to immediately begin a search for his successor.
Margaret Aspinall, whose 18-year-old son James died in the Hillsborough tragedy, said she was "absolutely delighted that he's going".
The chairwoman of the Hillsborough Families Support Group told the BBC "he should have gone a long time ago".
Anne Williams, whose 15-year-old son Kevin died on the Leppings Lane terrace, said she thought the findings of the recent report left Sir Norman with no choice but to retire.
Sir Norman's current contract with West Yorkshire Police was due to end in 2014.
Sir Hugh Orde, President of the Association of Chief Police Officers, said Sir Norman's retirement would be a "great loss to policing".
'Nothing to hide'
He said: "At the national level he has made an outstanding contribution to the work of the police service as a whole in cutting crime and keeping the public safe.
"His depth of knowledge and experience is highly regarded within the service."
Sir Norman's referral to the IPCC came after complaints from members of the public following the release of previously unseen government papers about the disaster at Sheffield Wednesday's Hillsborough stadium on 15 April 1989.
A crush during the FA Cup semi-final between Liverpool and Nottingham Forest resulted in the deaths of 96 people.
The Hillsborough Independent panel's report found 164 police statements were altered, 116 of them to remove or alter "unfavourable" comments about the policing of the match and the unfolding disaster.
Sir Norman previously defended his role in the aftermath of the disaster, saying: "I never altered a statement nor asked for one to be altered."
He also said: "I really welcome the disclosure of all the facts that can be known about the Hillsborough tragedy because I have absolutely nothing to hide."