Dartford Crossing toll increases for cars and lorries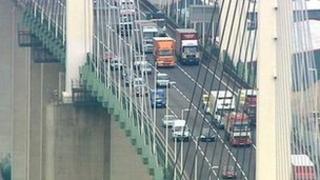 The cost of using the Dartford Crossing between Kent and Essex has increased for cars and good vehicles.
From 06:00 BST 50p increases brought the price for cars to £2 and the price for two axle goods vehicles to £2.50.
The toll for the crossing between Dartford and Thurrock has increased by £1.30 for heavy goods vehicles to £5.
It remains free for motorcyclists and discounts will continue for local residents and account holders who pay in advance.
Dartford-based haulier Chris Smart said he wanted discounts to apply to local businesses.
"The same [local residents' discount] should surely apply to local hauliers and businesses within the Dartford and Thurrock postcodes. We should certainly qualify for sizeable discounts."
Road Minister Stephen Hammond said he recognised the increase was not ideal but that doing something about congestion was going to help hauliers.
The government said by 2014 it would have spent at least £250m on reducing congestion by introducing automatic electronic charging.
Mr Hammond said: "What we are now doing is using the money that this raises to invest in the free-flowing [automated barriers] which will alleviate congestion and indeed looking at the other sort of transport infrastructure improvement that we want to put in place."
Speaking last month, John Kent, the Labour leader of Thurrock Council, said: "I think the increase is entirely unjustifiable.
"There would be an outcry if we put up parking charges by that much. I think it is nothing short of outrageous."
Conservative MP for Dartford, Gareth Johnson, said automation of the toll barriers would ease congestion and pollution which were the main concerns of local residents.
He added he would continue to campaign for the removal of the tolls.