Justin Lee Collins trial: Ex-partner 'a compulsive liar'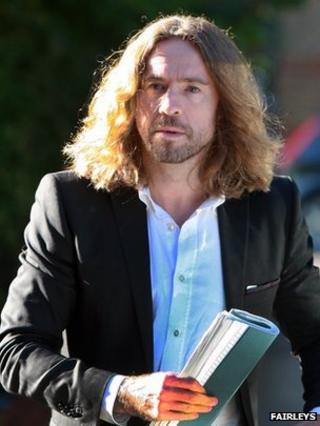 The ex-girlfriend of Justin Lee Collins was "a calculated, compulsive liar", the TV presenter's trial has been told.
Anna Larke accused him of harassment because he refused to take her back after a turbulent relationship, St Albans Crown Court heard.
But the prosecution denied that Ms Larke, 38, was a fantasist, and said she was subjected to jealous campaign of emotional and physical abuse.
Mr Collins, 38, of Kew, London, denies harassment causing fear of violence.
In closing speeches, prosecuting barrister Peter Shaw told the jury: "She was a woman with panic attacks, depression and a drinking problem, but a woman who also happened to be someone being abused by this defendant."
Mr Shaw asked why a woman with a drink problem living in a "nice flat in Richmond with the man she was besotted with", going on international holidays and receiving money from him, would walk out.
"What could it possibly be? She wanted to be treated properly," he said.
"All these things he bought her, how generous he had been with money, she told us, but as she said: 'that didn't give him the right to hit me'."
Mr Collins, a father-of-two who found fame in Channel Four' s The Friday Night Project, first met Ms Larke in 2006 while he was still married.
'Perfectly pleasant'
A year later he began an 18-month affair which he ended to save his marriage. He got back in contact with Ms Larke at the end of 2010 and she moved from her home in Hitchin into his flat in Kew.
Barrister Sonia Woodley QC, defending, claimed the allegations were revenge for Mr Collins refusing to take her back after she walked out on him in July last year.
Describing her as a compulsive and calculated liar with a history of mental health problems and alcohol abuse, she said: "Is he telling the truth or is she telling the truth or is it somewhere between them? How can you exclude the possibility that she is a fantasist?
"Has this perfectly pleasant man become a monster overnight and hit her constantly hundreds of time causing hundreds of bruises without any independent evidence that this was the case?
Judge John Plumstead, summing up the case, asked the jury to ignore any feelings of concern or disapproval of the conduct of Mr Collins and Ms Larke.
"Neither sympathy nor prejudice are good guides to fair judgment and you must put them to one side to do justice," he said.
The trial will resume at 10:30 BST on Saturday.