Stephen Farrow murder trial: Vicar's blood 'found on accused's boot'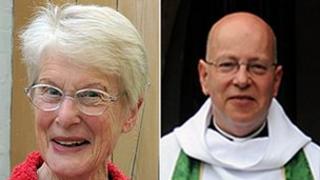 The trial of a man accused of the murder of the Reverend John Suddards has heard how spots of blood on his clothing matched those of the vicar.
The court was told blood was found on a walking boot belonging to Stephen Farrow, 48, after he was arrested in Folkestone, Kent.
Mr Farrow admits the manslaughter of Mr Suddards but denies his murder.
He is also on trial at Bristol Crown Court for the murder of Betty Yates at her home in Worcestershire in January.
'DNA found'
Forensic expert Claire Morse showed the court a pair of leather walking boots which had been found on Mr Farrow when he was arrested at the house in Blackpool Road, Folkestone.
Ms Morse told the jury blood on the sole of his left boot matched that of Mr Suddards.
Two other bits of clothing - a pair of over-trousers and a dark green waterproof jacket - had blood which matched the vicars.
The court was also told Mr Farrow's DNA had been found on the cap of an empty beer bottle found at the vicarage in Thornbury, near Bristol.
It was also revealed that the DVDs found beside the body of the vicar contained material of a homosexual nature.
The jury were also shown a series of images of Mr Farrow from CCTV cameras in Thornbury.
He is seen getting off a bus on the 13 February - the day before it is claimed he murdered Mr Suddards.
On the morning of 14 February he is also spotted getting onto a another bus in the town's centre some time after 18:00 GMT, bound for Bristol.
Mr Farrow, of no fixed address, has pleaded guilty to burgling another property, Vine Cottage, also in Thornbury, over the Christmas and New Year period, where a note was found threatening to kill "Christian scum".
Mr Farrow has a severe personality disorder, which the prosecution accepts.
The trial continues.