Avon and Somerset PCC election: Projects funding worry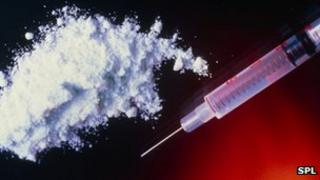 Funding fears and hopes have been expressed by charity and voluntary groups in Bristol and Somerset over the forthcoming changes to police funding.
Once elected, the new police and crime commissioner (PCC) for Avon and Somerset will have a Community Safety Fund to spend on chosen projects.
In Bristol this has sparked concerns from various groups which will stand to lose ring-fenced funding.
But in Somerset smaller community safety groups have joined together to form a county-wide partnership to put themselves in a better position to bid for funding.
Chief executive of Bristol Drugs Project Maggie Telfer said: "One of the real concerns we have in Bristol is that they will get a budget which includes around £1.2m which is spent on drug treatment here in Bristol.
"It goes into a budget which means they don't have to spend it either in Bristol or on drug treatment in the future so that's a really big risk for people in this city."
Matthew Symonds is from Voscur which supports Bristol's voluntary and community sector.
Despite welcoming the new role, his fear is that some projects may suffer in favour of other, more visible forms of policing such as getting more officers on the beat.
Mr Symonds said: "It could take money away from some of the things people don't see but do take place."
One former drugs user who was helped by the Bristol Drugs Project shares this view.
She said: "I wasn't a casual drug user, I was in extremely dark places and also on the verge of doing a very long prison sentence and I was very entrenched in that way of life.
"If I hadn't had that treatment, if I hadn't had that opportunity to engage in services I would still be out there, if not dead."
But these funding fears have been dismissed by the government.
Policing minister Damian Green said: "The PCC will have to produce a policing plan and at the heart of his plan will be to reduce crime.
"If a drugs project reduces crime it would have nothing to fear as they would be rowing in the same direction."
In Somerset, the Community Safety Partnership has been set up in recent months.
'Single voice'
Stuart Brown, who chairs the partnership, said: "Our concern was, with the new commissioner covering the whole of the Avon and Somerset area there was a little bit of competition from Bristol and Bath to secure funding.
"We felt in order to present Somerset as a single voice and present its best case it was better for the partnership to join together."
The partnership has identified general aims such as reducing the impact of drug and alcohol abuse on the community and reducing reoffending.
But crime more acute to rural areas, such as fly-tipping and the theft of farmyard equipment and underground cables, has also been identified as "key crime areas".
However the partnership has not said how much it hopes to secure, only that it is confident it can put a strong case forward for funding.
But until the Home Office discloses how much money will be available in the new fund, groups will have to put their long-term funding hopes on hold.