Crete murder trial: Luke Walker bailed to return to UK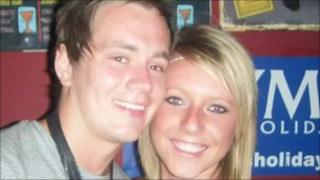 A man on trial for murdering his girlfriend in Crete has been bailed to return to the UK as his case on the Greek island was adjourned.
Luke Walker, 24, was arrested in May 2010 over the death of Chelsea Hyndman, 21, from Castleford in West Yorkshire.
His trial got under way earlier but was adjourned to a date yet to be set.
Mr Walker, from the West Midlands, was held on remand for five months after his arrest and later given bail but had not been allowed to leave the island.
Miss Hyndman had been working at the party resort of Malia when she died after suffering severe injuries to her abdomen.
Greek prosecutors claim she was beaten by Mr Walker, from Brierley Hill, but he says she fell during a night out in the Malia.
Friends of Miss Hyndman's mother, Heather, have raised money to help pay for the family to stay on the island for the trial.
'So glad'
The court in Heraklion sat for less than an hour before adjourning because key prosecution witnesses had not been summoned.
Mr Walker's solicitor George Pyromallis asked that the defendant be allowed to return to the UK on bail.
Speaking after the hearing, Mr Walker said it was the "best outcome so far".
He said: "I expected the trial to go ahead today - I thought this would be it now.
"I haven't even thought about what I'll do when I get home. It hasn't crossed my mind.
"All I want to do is clear my name."
Mr Walker will return to Brierley Hill with his family.
His father Patrick said: "I'm just so glad he's going home.
"But to know it's not over and we still have the trial to come is hard.
"It's going to be hard for Luke too. He hasn't been in England in two-and-a-half years so it'll take some settling in."
The first stage of the trial was scheduled for Tuesday and Wednesday but a strike by Greek judges means a date for future hearings has yet to be set.