Navitus Bay wind farm 'to create 1,000 temp jobs'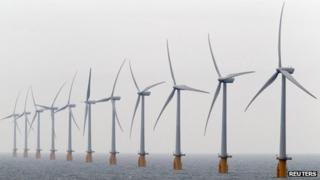 A £3bn wind farm off the south coast would provide about 1,000 temporary jobs and 100 permanent posts, it is claimed.
Navitus Bay will have up to 333 turbines just over eight miles off Peveril Point at Swanage, Dorset, and The Needles, in the Isle of Wight.
About 1,000 temporary jobs would be created during the construction period, which would start in 2017.
Maintaining the site would provide the 100 permanent jobs.
Eneco Wind UK Ltd (Eneco) and EDF Energy, which will install the turbines, have yet to decide how big they will be.
A spokesman for the Navitus Bay project said these roles would be offered as full-time and would be based at the wind farm's operational port - either at Yarmouth, Poole, Swanage or Portland.
The licensed site for the wind farm is 76-sq-mile (200-sq-km), but the development may not necessarily cover the whole area, Mike Unsworth, Navitus Bay project manager, said.
3D model
Mr Unsworth added: "There is a danger that people simply see this as a global plan and something that is decided by central government.
"There has got to be a local link to generate local commitment to the project and that is where the jobs come in."
Concerns have already been raised about the farm's visual impact and its effect on marine wildlife.
David Lloyd, from the campaign group Challenge Navitus, believes the proposal is a "bad plan" in the wrong place.
He said: "It will have a very serious impact on the coastal horizon and will call into question the heritage status which this part of Dorset has.
"We argue that in an area which is so revered, to have a windfarm between the Isle of Wight and Purbeck would be completely out of proportion.
"It will only be eight miles off the coast and government guidelines say windfarms in areas of sensitivity should be at least 14 miles from the coast."
Exhibitions will be held in February next year when a 3D "fly-through" model of the wind farm will be on show to enable people to see how the wind farm will look from their homes or chosen location.
A planning application for Navitus Bay is likely to be submitted in 2014, Mr Unsworth said.
If approved, construction work would be completed by 2021.