Stephen Farrow murder trial: Accused refused to answer police questions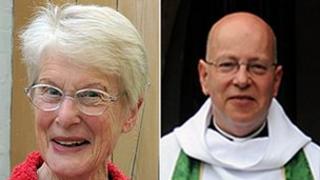 A man accused of the murder of a vicar and a retired teacher refused to answer any questions following his arrest, a court has heard.
Stephen Farrow denies murdering Betty Yates, 77, and the Rev John Suddards but admits the latter's manslaughter.
Mr Suddards, 59, was found dead at his vicarage in Thornbury, near Bristol, in February. Mrs Yates was found dead at her home in Worcestershire in January.
Mr Farrow repeatedly answered "no comment" when questioned by police.
Detectives spent three days questioning him following his arrest.
Police launched a nationwide search for Mr Farrow after the body of Mr Suddards was found on 14 February at his vicarage.
Mr Farrow was arrested five days later at a house in Folkestone, Kent, on suspicion of murdering Mr Suddards.
Later that day, he was arrested on suspicion of murdering Mrs Yates at her home in January, and of committing a separate burglary at another property in Thornbury over the Christmas and new year period.
He was taken back to Bristol and was first interviewed on 20 February at Trinity Road police station and again over the next two days.
'Forensically linked'
Det Con Wayne Sumsion told jurors at Bristol Crown Court that Mr Farrow was told he was "forensically linked" to the three addresses.
He said: "Thereafter Stephen Farrow answered 'no comment' to every question he was asked."
The following day, Mr Farrow told police during his next interview that he felt "kind of strange".
He said: "I just feel different today. I don't know what's wrong."
Mr Sumsion told jurors: "He said he felt okay to continue. Thereafter he answered no comment to every question he was asked."
On the evening of 22 February, Mr Farrow was charged with the murders of Mr Suddards, Mrs Yates and the burglary in Thornbury.
Mr Farrow was not present in court, having refused to leave Long Lartin prison in Worcestershire where he is being held.
The trial continues.