Lap dance protestors 'should be heard' says Dorries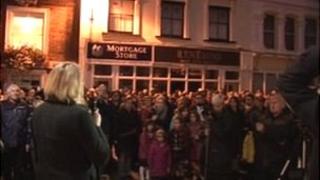 It was quite an extraordinary sight. Bedfordshire is hardly a hotbed of political activism, so what was it that made several hundred people turn out onto its streets?
It was objections to plans for a lap dancing club in the town of Ampthill.
This display of solidarity from the genteel folk of this picturesque town was disarming.
Better known for for its historical associations with Catherine of Aragon than sleaze, they demonstrated where they draw the line.
A petition with 2,000 signatures, asking for the club's licence to be reconsidered, has also been handed to Central Bedfordshire Council.
But what do they find?
That the council has no powers to stop the application - that's what.
People's voices
Although the local councillor says he doesn't approve of the club in the town centre, the authority is obliged to follow licensing rules.
If that sticks in your craw, be assured it's a reaction shared by MP Nadine Dorries, who raised the matter at Prime Minister's Questions.
"Recently a lap dancing club in Ampthill, a rural market town in my constituency, has been granted a licence," she complained.
"As the residents of Mid Bedfordshire have learned, it doesn't matter if it's a Wembley sized incinerator (another controversial scheme in the county) or a lap dancing club in a beautiful market town, the wishes of local people have absolutely no weight whatsoever in planning law.
"Would the Prime Minister agree with me that it is time we amended planning law so that when catastrophic applications come forward which blight the environment that people live in, which distresses them to a great degree, that their views and their voice should be heard?"
Reality of 'localism'
To sounds of "hear, hear" David Cameron got to his feet and agreed, saying: "I think my honourable friend speaks for many people about the frustration the planning system can sometimes deliver.
"First of all, we have changed the licensing system to give planners greater power to alter licences and I believe that can apply to the sorts of premises she refers to.
"And secondly, under our plans people can write neighbourhood plans which give far greater control to residents about the shape of their future community.
"But I would encourage her to take up the specific issue with the Department of Communities and Local Government to see if there's more that we can do."
The difficulty for the Conservatives is that they have raised the public's expectations with talk of 'localism' but this is another local example of exasperation when it appears that the reality fails to deliver.
The MP for Mid Bedfordshire told us later: "I am going to work hard to get an amendment in planning law to ensure that when a contentious application is submitted that the views of local people are taken into account in the planning process.
"At present an entire town is against a contentious application which has the ability to blight the ambience of the town and under law there is no provision to take account people's views, which makes me very angry indeed."
Communities and Local Government Secretary, Eric Pickles, had better watch out.