Winston Churchill modified Land Rover sold for £129,000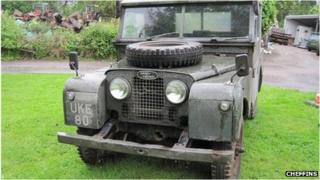 A Land Rover built for Winston Churchill's 80th birthday has sold at auction in Cambridgeshire for £129,000 - more than twice its estimate.
The vehicle, which had been modified to enable him to be chauffeur-driven around his Chartwell estate in Kent, was expected to fetch up to £60,000.
It was sold with the original logbook registering it to Churchill to a bidder who wished to remain anonymous.
The previous owner had kept it in a shed in Kent since 1977.
The 1954 Series 1 Land Rover was registered as UKE 80 in the name of the "Rt Hon Sir Winston Spencer Churchill KG. OM. CH. MP. Chartwell, Westerham, Kent".
It was especially modified for him with an extra-wide passenger seat and heated footwell.
Cheffins auctioneers said the vehicle, which had 12,932 miles (20,812km) on the clock, was the most expensive item in its auction of more than 2,000 vintage vehicles.