More London Midland trains cancelled over staff shortages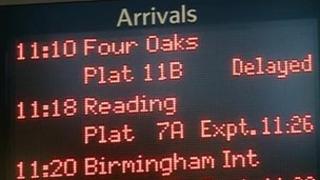 More than 30 trains in and out of Birmingham have been cancelled because of a shortage of drivers.
London Midland has cancelled trains on the Birmingham-Coventry-Northampton, Lichfield-Birmingham-Redditch and Wolverhampton-Birmingham-Walsall/Rugeley routes.
The firm said it would try to provide road transport or stop faster trains if there was a "significant wait".
The company has apologised to commuters for the cancellations.
Another 30 services will start or end at different stations.
London Midland services have been hit by cancellations for several weeks.
Disruption until mid-December
On Saturday afternoon and evening up to 30 services on the same routes were subject to delays or cancellations.
The company has said the shortfall in qualified train drivers will be addressed by mid-December.
Passengers have been advised that daily cancellation updates will be posted on the website at 17:00 BST the day before services are due to be affected.
A message on the company's website said several services would be affected on Tuesday.
These include trains between Coventry, London Euston, Northampton, Birmingham International and Birmingham New Street as well as between Redditch, Lichfield and Four Oaks.
Richard Brooks, commercial director for London Midland, said he wanted to "personally apologise" to everyone who has been affected.
Mr Brooks said: "The challenge is that it takes over 12 months to recruit and train a driver yet we will lose drivers after three months if they choose to go elsewhere."
He added timetables due to start on 9 December include "new ways of working" that will not lead to shortages of drivers.
Phil Davies, from the passenger group Travelwatch West Midlands, said he believed the rail regulator should become involved to see if London Midland is "fit for purpose".
"They've been promising new drivers but we do need to see some proof of action," he added.
Passenger Georgia Sutton-Hitch, from Worcester, said: "I've been affected by quite a few trains that have been delayed.
"I've been put on replacement bus services before, which are really annoying, and it's been happening more and more."
Adele Dalton, from Leamington Spa, said: "I've not had any problems myself but my husband, who has to travel into Birmingham every day for work, has.
"It's unfortunate, but it does make things difficult for people who rely on trains."