Stone church bells 'going home' to heritage centre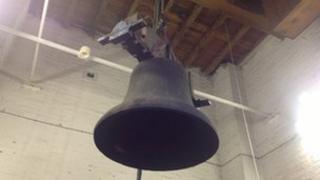 Two 300 year old bells from a church in Staffordshire have been given to a heritage centre housed in a church tower near where they were made.
St Michael and St Wulfad's church in Stone have raised £112,000 to refurbish its peal of bells.
The two treble bells, which will no longer be needed, were cast at the Rudhall Bell Foundry in Gloucester.
A church spokesman said the bells, which will hang in St Michael's tower, Gloucester, are "going home".
Another two trebles bells will be given to Thoroton in Nottinghamshire to be part of a new ring of bells there.
The Gloucester heritage centre said the two bells they had been given would be put where they could be seen and touched - rather than "tucked away in a belfry".
Recast and retuned
Both were made in 1710 by Abraham Rudhall at his bell foundry works which was located in Kings Square, Gloucester.
The bells will be on view to the public from April 2013 with a new display on the history of bell making in Gloucester, a spokesperson said.
The remaining bells at Stone will be transported next week to the Whitechapel Bell Foundry in London, where two will be recast, and four retuned.
Another four bells have already been made at the bell foundry together with a new metal 10-bell frame, with a refurbished set of clock hammers.
The current ancient wooden bell frame will be conserved and facilities provided for people to be able to study it.
A spokesman said the peal of bells will be easier to ring than the previous ones, which will "encourage new recruits to learn the ancient art of bell ringing".
Sound controls will be installed in the tower to allow more frequent practice sessions without causing nuisance to the general population.
The church hopes the new peal of bells will be ready to ring in time for Easter 2013.