Avon and Somerset PCC election: Lib Dem hopeful in FGM pledge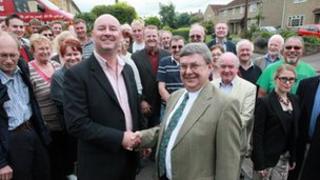 A pledge to bring about the first arrest and conviction for female genital mutilation (FGM) has been made by the Lib Dem police candidate.
Pete Levy says that if he is elected as Avon and Somerset's police commissioner he aims to eradicate the practice.
He said: "It is unacceptable behaviour, it is against the law and it is a form of child abuse."
Bristol's safeguarding children board has estimated about 2,000 girls in the city are at risk of mutilation.
Mr Levy has given no details on how this pledge would be resourced but he has promised to review police funding for community projects.
'Diverse communities'
"What I want to make sure is that collectively we conduct a mapping exercise first off of the voluntary sector of who is providing what," he said.
"FGM typifies to me the need to collaborate and understand what this means and to be sympathetic to the diverse communities we have in Avon and Somerset," said Mr Levy.
In May, the city's safeguarding children's board launched a campaign against the practice.
There have been documented cases of FGM but no-one in the UK has been successfully prosecuted.
Charities that are campaigning against the practice have acknowledged that FGM is not being reported by communities.
Mr Levy has said by highlighting FGM it would also bring more awareness to the wide range of abuses against women and children.
"I think the police and crime commissioner's office has the opportunity to bring all these groups together and support and empower them so collectively we have a louder voice in tackling some issues people are finding difficult to come to terms with - issues such as child sex abuse and human trafficking," he said.
Also standing in the police elections are Independent Sue Mountstevens, John Savage for Labour and Ken Maddock for the Conservatives.