Epsom Hospital acquisition plans halted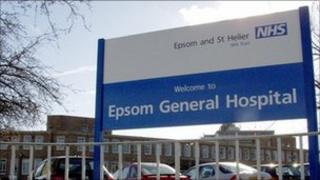 A proposed hospital merger in Surrey has been halted.
An NHS London board meeting agreed that the acquisition of Epsom Hospital by Ashford and St Peter's Hospitals NHS Foundation Trust should be stopped.
A statement said the project had received a high level of support but the parties involved had been unable to develop "a financially viable plan".
Urgent discussions would now take place to determine whether a way forward could be found, it said.
Epsom Hospital is currently part of Epsom and St Helier NHS Trust, but the partnership is due to end on 1 April 2013.
Ruth Carnall, chief executive of NHS London, said: "NHS London has agreed today with the recommendation from the Transaction Board that the plan to de-merge Epsom Hospital from St Helier and for Epsom Hospital to then join with Ashford and St Peter's should not proceed at this time.
"I am disappointed that this decision has had to be taken and want to acknowledge the great effort that has been undertaken to get to this stage."
Matthew Hopkins, chief executive of Epsom and St Helier University Hospitals NHS Trust, added that the decision to halt the transaction "is not based on the ability of our staff, nor the quality of the services we provide".
"We have to protect the interests of our patients and believe that this is the right decision at this point."
Andrew Liles, chief executive of Ashford and St Peter's Hospitals NHS Foundation Trust, said: "We have put a lot of time and effort into developing these plans and are very disappointed that our collective hard work has not led to us being able to bring the three hospitals together to create a new foundation trust in Surrey."
The Surrey Link patients' association said it was also dismayed the acquisition would not be going ahead, and that it was concerned about what it would mean for the future of services provided by Epsom and St Helier NHS Trust.
"We will be working with Epsom and St Helier NHS Trust, NHS Surrey and the Strategic Health Authority to ensure existing services remain," it said.