Staff shortage set to hit three London Midland train services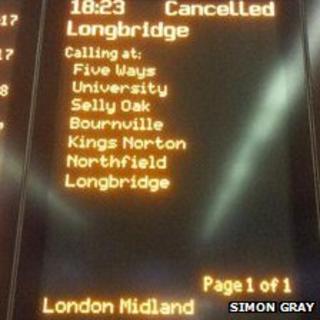 Three London Midland services will be affected on Monday by its ongoing driver shortage, the firm said.
"There is currently just one shift uncovered, which means three of the 1,311 trains we are scheduled to run may be affected," it said.
The 1639 from Whitlocks End to Kidderminster and the 1800 Kidderminster to Leamington Spa are be cancelled.
The 1526 Kidderminster to Whitlocks End will terminate at Birmingham Snow Hill.
Staff shortages have led to many cancellations over the past few weeks, with the government warning the company it is "monitoring the situation closely".
'Unacceptable' service
The train operator has apologised and said it had seen a higher than normal turnover of drivers and expected to be fully staffed by mid-December.
London Midland mainly operates services across the West Midlands but also runs services to Liverpool and London Euston.
The firm has now cancelled more than 470 trains since 7 October with others disrupted. More than 100 services were affected on Saturday but a full service had been planned for Sunday.
The firm said some drivers were working overtime to reduce the impact and "a number of changes to the way we resource our train services" would also help.
Drivers departing from the company have to give three months' notice, yet on average it takes about 12 months to train a new driver.
The situation has been criticised by some politicians and passenger groups.
Phil Davis, spokesman for the passenger group Travel Watch West Midlands, said he would complain to the regulator about the "unacceptable" service which was hitting commuters to the city and advised other commuters and groups to do the same.