'Significant' sightings of on-the-run criminal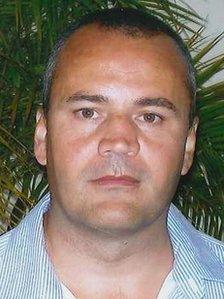 A "dangerous and predatory" criminal has been seen more than 30 times since going missing from jail, police said.
Lee Cyrus, 47, from Preston, was serving life for robbery when he failed to return to a Lincolnshire open prison while on day release on 9 October.
Cyrus, also known as Ivan Leach, went missing from the North Sea Camp open prison near Boston.
A Crimestoppers' £3,000 reward has been offered for information leading his arrest and successful conviction.
CCTV footage taken in Preston on 17 October is believed to show Cyrus.
Lancashire Police think he was walking down Friargate at 18:50 BST minutes after a man matching his description made sexual advances to two girls at a bus stop on Lancaster Road in the city centre.
The girls boarded their bus and reported the matter.
Police said Cyrus was believed to have carried out a sexual attack in Tayside since he left prison.
Det Ch Insp Ian Dawson described him as an "extremely dangerous and predatory individual" who should not be approached by the public.
"We've had a significant number of sightings, in excess of 30, and we have a number of detectives following up each of those sightings," he said.
"He hails from Preston, his family and associates are in Preston and I believe from the information I have, he has spent a considerable amount of time in Preston since leaving prison on 9 October."
Cyrus was jailed in 2005 for robbing a 90-year-old woman in her home in Ribbleton, Preston.
Police added Cyrus could be sleeping rough and travelling the country, most likely on public transport.
Detectives believe his appearance may have changed over the past few weeks due to his current lifestyle and he may have grown a beard.
Related Internet Links
The BBC is not responsible for the content of external sites.