Hillsborough: Petition calls for fast-tracked inquest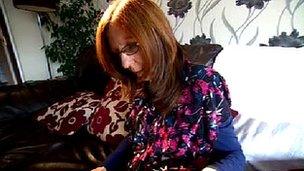 A petition has been set up calling for the inquest into a Hillsborough victim to be fast-tracked after his mother was diagnosed with cancer.
Anne Williams' son Kevin was 15 when he died in the disaster at the Sheffield stadium in April 1989.
She has always disputed the verdict of accidental death by the coroner and campaigned for a fresh inquest.
The online petition has been signed by more than 4,000 people less than 24 hours after it was set up.
If it attracts 100,000 signatures, it would trigger a debate in the House of Commons.
'Fantastically supportive'
Kevin, from Formby, Merseyside, was one of the 96 people who died in the Hillsborough disaster.
Ninety-five fans died in the crush at the FA Cup semi-final at Sheffield Wednesday's ground and a 96th supporter, Tony Bland, fell into a coma and died in hospital in 1993.
The original inquest in 1991 returned a verdict of accidental death, ruling that all the victims were dead by 15:15.
Mrs Williams, 59, from Chester, said she had evidence that he was still alive at 16:00 on the day of the disaster.
She set up the charity Hope For Hillsborough (For Justice) and has always campaigned for a new inquest to be held.
The new petition was set up on the government website on Monday morning by Jan Rathbone.
It reads: "We would like to give her something back for all the hard work and motherly love she has displayed over these 23 years."
On Monday, Mrs Williams said on Twitter: "Please help - I would love to have my inquest before I die."
Her campaign has also been supported by Liverpool legend Kenny Dalglish, who said: "She has been fantastically supportive to many for 23 years. Now it is our turn to support."
More than 100,000 signed a petition set up earlier this year calling for a fresh inquest into Kevin's death.
Since then, the Hillsborough Independent Panel's report published on 12 September revealed the lives of 41 fans could potentially have been saved.
Earlier this month, the Attorney General announced he would apply to have the verdicts into the 96 deaths at Hillsborough quashed.
Related Internet Links
The BBC is not responsible for the content of external sites.