Epsom Hospital merger: 'Concern and fury' as deal halted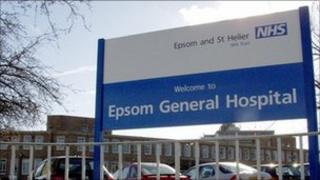 A pair of Surrey councils have expressed "concern and fury" over the halting of a hospital merger.
Last week, an NHS London board meeting agreed that the proposed acquisition of Epsom Hospital by Ashford and St Peter's Hospital NHS should be stopped.
The project was halted because both parties had been unable to develop "a financially viable plan".
Surrey County Council said there was great concern, while Epsom Council said members were "furious".
Councillor Nick Skellett, chairman of Surrey County Council's health scrutiny committee, said: "The committee had welcomed the prospect of the two trusts combining and are disappointed that this has been stopped.
"This brings back uncertainty for Epsom's staff and residents."
He urged NHS London and Epsom Hospital to start discussions early on finding a solution.
'Serious concerns'
Councillor Jean Steer, chairman of Epsom's social committee, said: "We have asked for an immediate meeting with those people in the NHS that are behind this decision to explain what is happening."
She added: "This will inevitably raise serious concerns for the future amongst both staff and our local residents.
"We will be pressing for a full explanation of the options moving forward and the timescale that is involved. To delay this too long is unacceptable."
Epsom Council also said it would approach local MP Chris Grayling for support in seeking an early resolution.
After the merger was halted, NHS London said urgent discussions would take place to determine whether a way forward could be found.
Epsom Hospital is currently part of Epsom and St Helier NHS Trust.
The merger process began in 2011 after Epsom NHS was deemed unable to achieve foundation trust status alone.
The current trust is made up of Epsom, St Helier and Sutton hospitals, and Queen Mary's Hospital for Children.