Thames Valley fire services agree new calls merger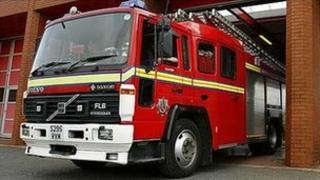 A third fire service in the Thames Valley has agreed to merge 999 calls to a centralised control room.
Buckinghamshire Fire and Rescue Service is to join Berkshire and Oxfordshire fire services after originally planning to merge with Cambridgeshire.
Unions claim the move will put 30 jobs at risk in Buckinghamshire. Berkshire and Oxfordshire unions are yet to comment.
The Thames Valley Fire Control Service (TVFCS) is expected to start in 2014.
The decision to join the TVFCS is a "change of direction" from Buckinghamshire and Milton Keynes Fire Authorities.
In September last year, both decided to pursue an alternative merger with Cambridgeshire and Suffolk instead of joining the TVFCS.
Andy Dransfield, vice chairman of Buckinghamshire and Milton Keynes Fire Authorities, explained why their original plan had changed.
'Best option'
He said: "Last year, to join with the Thames Valley would have cost us capital money to invest in a new building and new equipment. It was uncertain when that would deliver a new control room and savings.
"The best option at that time was to go with the Cambridgeshire and Suffolk model.
"Since then, the government has given each fire authority £1.8m to help implement new fire control arrangements and Thames Valley have moved on a great deal.
"They have a new building and are now certain in their ability to go live with this new service in April 2014.
"At the same time, Cambridgeshire have slipped back in their originally estimated time frame."
The new centralised control room will be based in Calcot, near Reading.
An unstaffed secondary control room will be located in Kidlington, Oxfordshire.
Berkshire and Oxfordshire's fire and rescue services have been working together after their governing bodies agreed to join the TVFCS in September 2011.