London Midland driver shortage hits 37 trains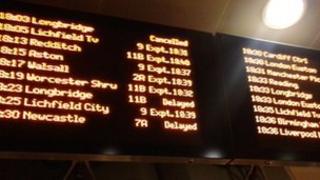 The ongoing driver shortage affecting London Midland is expected to affect 37 train services by the end of Thursday.
Six shifts have been left uncovered, meaning 37 of its 1,311 scheduled services have been cancelled or are starting later or terminating early.
The disruption included a replacement bus service between Coventry and Nuneaton prior to 13:30 GMT.
The train operator has been warned it could face Department for Transport (DfT) sanctions.
Leader of the House of Commons Andrew Lansley MP said London Midland was not yet technically in breach of its obligations, but if improvement was not seen "in very short order" the Department for Transport would need to consider taking action.
The issue of hundreds of cancellations by London Midland was raised in the House of Lords on Wednesday.
Labour peer Lord Hunt of Kings Heath said the company was "not fit to run the franchise".
London Midland mainly operates services across the West Midlands but also runs services to Liverpool and London Euston.
The train operator said it had seen a higher than normal turnover of drivers, which has hit more than 500 services since 7 October.
The Rail, Maritime and Transport Union (RMT) said earlier this month that 31 London Midland drivers had recently joined other operators for better pay and conditions.
London Midland has repeatedly apologised for the problem which it expects to be resolved by mid-December.
It said drivers were working overtime as part of efforts to keep disruption to a minimum.