Horden shootings family campaigns for gun law changes
Richard Moss
Political editor, North East & Cumbria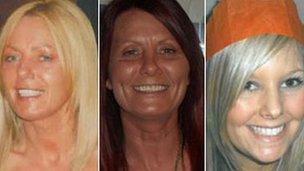 On New Year's Day 2012 David Rowe confronted a scene of unimaginable horror.
He found his partner, her daughter and his partner's sister dead or dying from gunshot wounds at a house in Horden in County Durham.
Next to them was their killer - taxi driver Michael Atherton - who had also turned the shotgun on himself.
Atherton's murder of his partner Susan McGoldrick, as well as David's partner Alison Turnbull and her 24-year-old daughter Tanya caused shock not just in the community but nationally.
Although the killings may no longer be front page news, David and the rest of the family are still living with their devastating impact.
But there is one thing they are now focused on; they want changes to the firearms regulations and laws to prevent further needless deaths.
They have been collecting signatures for a petition both locally and on the UK Parliament site.
David Rowe is concerned that changes first proposed in 2011 after the Derrick Bird shootings in Cumbria still have not been implemented.
He believes if they had been, Michael Atherton's three victims could still be alive.
He said: "The longer this is dragged out the more likely it is that another family could suffer as we did. They need to hurry up.
"I'd hate for anyone to go through what we went through because it is the worst feeling ever.
"When you find out it could have been prevented it is a terrible blow because you know the people you love the most in the world could still be here if mistakes hadn't been made.
"That's why we want those mistakes correcting."
The inquests into the Horden shootings have yet to take place and until they do a report into the gun licensing issues will not be published.
But the family does not want to wait for change, and nor does their MP Grahame Morris.
He has taken up the case for change in the Commons.
In a debate this week the Labour MP for Easington questioned why anyone should be allowed to have a shotgun.
He said: "It is difficult for many, including me, to comprehend why someone would need access to firearms in a domestic setting when there is little need for immediate access to a weapon.
"I am not opposed to shooting per se. I am saying that people should be able to demonstrate a clear legitimate need before a firearms certificate or shotgun licence is issued."
He also outlined the changes he and the family would like to see:
1) Anyone applying for a shotgun should have to demonstrate they have a good reason to own one;
2) The authorities should automatically check with GPs on the medical fitness of applicants;
3) Partners and ex-partners of applicants over the previous two years should have to sign the application form - if not a further investigation will be triggered;
4) A new single licensing authority should take over firearms applications from police forces to ensure consistent rules are applied.
That last recommendation does have the support of people who represent firearm licence holders but they are nervous about some of the other proposals.
Alasdair Mitchell, from the British Association for Shooting and Conservancy, said: "We do have concerns about a couple of the ideas. You can imagine what problems could be caused by consulting spouses and ex-partners of applicants.
"The problem of unnecessary bureaucratic hurdles is they soak up precious resources and divert police attention from the real issue of assessing the suitability of people into chasing red herrings."
The government also appears to be cautious.
Policing Minister Damian Green told the Commons that if the rules were tightened too much it could prevent legitimate gun users getting a licence.
He said: "It is generally recognised that the UK has comparatively low levels of gun crime, and some of the strictest gun laws in the world.
"Applying a good reason test... could be problematic. Unlike target shooters, shotgun owners do not always belong to clubs that could vouch that they had shot regularly."
He also rejected plans for a single licensing authority, although he said measures were being put in place to ensure consistent standards were applied by different forces.
The minister also said the laws would be looked at again once the report on the Horden shootings was published.
The Horden victims' family and Grahame Morris insist they are not looking for hasty or ill thought-out measures, but they do think action is needed soon.
They say they have spent months considering what measures could prevent other families suffering the same horror, and believe their suggestions are measured and sensible.
David Rowe says Christmas and new year will always now be tainted by the shootings, the trauma he experienced, and the loss he suffered.
But as the anniversary of the shootings draws closer, it seems he and the rest of the family will have to redouble their efforts to achieve the changes they want.
Related Internet Links
The BBC is not responsible for the content of external sites.