Unesco calls for South Crofty mining halt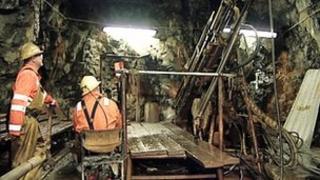 A United Nations body has called for an immediate halt to work to reopen a tin mine in Cornwall.
Unesco (the United Nations' Educational, Scientific and Cultural Organization) said the work should be stopped at South Crofty, near Camborne.
It said it was not properly consulted before planning consent was granted for the work in Cornwall and West Devon's Mining World Heritage Site.
Managers at Crofty said Unesco's call was "hard to fathom".
Government 'not informed'
Unesco granted the heritage status in July 2006, saying the "substantial remains are a testimony to the contribution Cornwall and West Devon made to the Industrial Revolution in the rest of Britain and to the fundamental influence the area had on the mining world at large".
South Crofty mine originally closed in 1998 after the price of tin hit an all-time low.
For the past six years the price of tin has been rising and Crofty's current Canadian owner, the Celeste Copper Corporation (CCC), wants to resume mining.
The company said it planned to extract tin and other metals, including zinc and copper, with the hope of creating at least 220 jobs.
Cornwall Council granted planning permission in late 2011.
More than £15m has been invested in the project so far.
CCC's chief executive, Alan Shoesmith, said Unesco's call was "a difficult one to fathom".
He said: "The heritage they're protecting is former mining landscape.
"What we build here will be the heritage of the future."
Julian German, chairman of the local partnership responsible for the world heritage site, said it is the government's responsibility to inform Unesco of developments in UK sites.
In a statement, a government spokesperson told the BBC that it had informed Unesco back in 2008 of the intention to resume mining at South Crofty but admitted it had not told Unesco about the formal planning application, saying it was not obliged to provide a "running commentary on every stage in the planning process".
Unesco said it wanted work to stop until "an assessment had been made of the project's impact".
Unesco's World Heritage List includes 962 properties around the world which are considered as having "outstanding universal value".
If the row is not resolved, Unesco could remove the heritage status.
However, a heritage de-listing has only happened twice before, in Oman and Germany.
Find out more on Inside Out South West on BBC1 on Monday 5 November at 19:30 GMT and nationwide on the iPlayer for seven days thereafter.