Carlo Dawes guilty of murdering Graham Pethard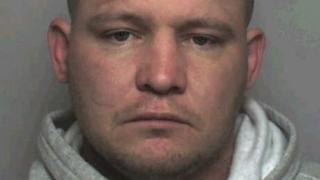 A 34-year-old man has been found guilty of stabbing to death a father-of-four from Liverpool at a Brighton flat.
Carlo Dawes was convicted of murdering Graham Pethard, 37, following a trial at Lewes Crown Court.
Mr Pethard bled to death after being stabbed in the neck and stomach at a flat in Taunton Road on 5 May.
Dawes, of Taunton Road, who pleaded not guilty, was sentenced to life in prison with a minimum term of 15 years for the murder of Mr Pethard.
The Crown Prosecution Service (CPS) said Dawes had returned home in the early hours of the morning to the flat he shared with his girlfriend to find Mr Pethard asleep on the sofa with her.
'Wrong place, wrong time'
Prosecutor Lorna Lee, from CPS South East, said: "This case was one where the victim was unfortunately in the wrong place at the wrong time.
"Mr Pethard was asleep, fully clothed, at one end of the sofa, with his friend at the other, when Dawes returned home and found him there.
"Having already fallen out with his girlfriend earlier in the day, he flew into a rage and attacked Mr Pethard, first with a bottle, and then a knife, inflicting the fatal wounds."
Det Insp Phil Mays, from Sussex Police, said Dawes fled the scene and then hid for several days before being arrested.
"I am satisfied that justice has been served for the family of Graham Pethard," he said.
"I hope that today's verdict will help to give them some form of closure."
'Tragic ending'
In a statement, Mr Pethard's family said they were delighted with the verdict.
"Graham did not deserve this tragic ending of his life.
"We are devastated by his death. We have sat through all the evidence and are happy the jury saw this for what it was.
"Graham will remain with us all through our many happy memories and through his four beautiful daughters. The loss of him we will never overcome.
"At least he has been given the justice he deserves."