Nadine Dorries in a tangle over jungle adventure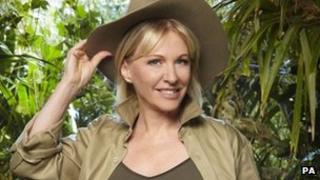 Nadine Dorries's colleagues are used to her making the headlines but no one saw this coming.
The MP for Mid Bedfordshire has become the first serving member of parliament to star in ITV's I'm a Celebrity Get Me Out Of Here.
To do so, she's taken the next month off work, apparently without permission, much to the anger of the new chief whip, who has suspended her from the party.
It's not clear exactly why she's done this, as she has failed to explain to many of those close to her, including the deputy chairman of her own constituency party.
In interviews she has talked about wanting to air issues close to her heart and reach an audience which doesn't normally take much of an interest in politics.
Fury
But those who do have taken a dim view of her jetting off to the jungle. Many Tory MPs from the region are furious.
"It's all about me, me, me," said one long serving MP from the East. "Women MPs here are incandescent with rage. This does nothing to help their image or that of the party."
"We get enough abuse and this will do nothing to help," says another. "She will return with little credibility."Most constituents had not been favourable about Nadine Dorries's jungle trip
"I have no sympathy for her whatsoever," says a third. "This is not a glamorous job, we are not celebrities, this is hard work."
Her local Conservative association didn't know that she was about to disappear. They will meet later this week to discuss the affair, although they stress they will not be rushing to judgement.
De-selection decision
"We don't de-select anyone just like that," said deputy chairman Budge Wells. "We will wait until she returns so that we can talk to her, then we'll decide what to do."
The association has been taking soundings among the public. Mr Budge said so far the majority of comments had not been favourable.
Ms Dorries does have her supporters - although interestingly they too will only speak off-the-record.
One MP from the East said: "Removing the whip was just vindictive. It's made this more of a story. It's a high risk/high reward strategy but she could well return covered in glory and prove them all wrong."
The Conservative party is stressing that she has only lost the whip because she is absent without leave; she's unable to take part in Commons votes and carry out constituency business. It says the whip may be restored once she meets with Sir George Young and explains herself.
Already some people are speculating about what might happen if she is deselected. It's not simply one of her colleagues considering whether the country could soon have its first UKIP MP.