Eric Pickles 'should give council funding answers'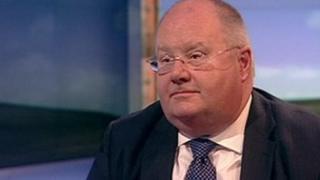 Three council leaders have written to Communities Secretary Eric Pickles urging him to speed up the process of telling councils how much money they will receive from the government.
Local authorities find out in December what their settlement is for 2013/14.
The leaders of Southampton, Portsmouth and Brighton and Hove City Councils have said it is too late.
They claim they are unable to budget properly, leading to ill-informed decisions and pressure on finances.
'Rushed decisions'
Green councillor Jason Kitcat, Leader of Brighton and Hove council, Liberal Democrat councillor Gerald Vernon-Jackson, leader of Portsmouth council, and Labour councillor Richard Williams, leader of Southampton council, have written jointly to Mr Pickles.
Mr Williams said: "We acknowledge central government's approach to reduce public spending, but we need some degree of certainty about the level of reduction to be able to plan properly.
"The difference between cuts of 0.8% and of 12% or more is millions of pounds for our councils.
"To leave telling councils how much money they will receive so late in the budget process can only lead to rushed decisions."
'Trust the public'
The council leaders have also questioned the government's move to make local authorities call a referendum if they want to raise council tax by more than 2%.
Mr Kitcat said: "Government must trust us to make the right decisions for our cities. In some cases this might mean modest increases to council tax, often preferable to reducing or stopping services as we work to deliver radical new models of public services."
Communities Minister Brandon Lewis said councils should trust in the public.
He said: "They need to go out to their population and to their residents and say 'Look, we want more money from you, we want to charge you a higher rate of tax - are you happy with that'?
"If those councils feel they have a good case to put they should go to the public, ask the public and trust the public are happy to pay that money for the service they provide."