MP Guy Opperman says teach prisoners to read and write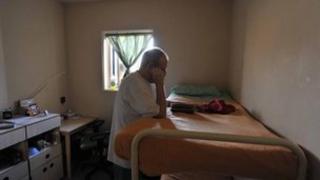 For decades our prison population has been growing but now one Conservative MP has come up with a solution - force inmates to learn to read and write.
It is estimated around half of prisoners cannot read or write. Hexham backbencher and lawyer Guy Opperman believes unless that is tackled reoffending will remain a significant problem.
He is suggesting judges impose literacy courses as part of prison sentences with offenders required to complete them before release.
Prisons crisis
It is just one of the ideas in a book Guy Opperman has written about how to tackle what he says is a crisis in our prison service.
In Doing Time, the MP also says the drug culture in our jails must be eliminated.
But he also suggests that churches, charities and communities ought to be given the opportunity to run what he calls Big Society prisons.
Many of the ideas - including those on literacy - come from Mr Opperman's personal experience as a criminal barrister. He became an MP in 2010.
He writes: "The sad reality in my experience is that very few clients were able to give you any meaningful written instructions.
"Too often my clients in prison simply could not read or write. It was very humbling."
The solution he believes is to make sure prisoners do leave jail with improved literacy and numeracy skills.
He says as few as one in five prisoners who need help actually seek it or receive it in prison.
So as well as imposing literacy courses as part of a prison sentence, he suggests that criminals be offered an early release if they complete them.
Basic skills
He said: "Many criminals are released early and we know that attaining this motivates those in jail to behave.
"If we allow judges to sentence criminals to literacy courses we can harness that motivation to give them the basic skills that will make them less likely to offend again."
The Conservative MP also calls for much stronger action to get drugs out of prisons.
He wants tougher screening of all those who enter or visit prison to try and keep drugs out.
He believes the government should trial a scheme where everyone entering a jail - from Home Secretary to relative - should be scanned or x-rayed, and if necessary, physically searched - something that does not happen at the moment.
He also wants every offender drug tested on admission and mandatory treatment programmes for those who are known users.
Mr Opperman also believes drug-free wings have to be created to make sure offenders who want to get clean can do.
And once again he says offenders should be offered an early release if they complete drug treatment programmes.
Big Society prisons
Where the MP's ideas get even more radical is on who should run prisons.
Many still oppose the idea of private companies running jails.
But Mr Opperman thinks the government should go further and create Big Society prisons.
He writes: "Why can't you have a charity running a prison or a church and community coming together to take charge and turn around low-grade prisoners.
"Imagine a prison run not by the public sector, or for profit - 'a third way' in the community, by the community, and for those from that community who have fallen by the wayside."
As an example he points to Norway where communities run prisons and reintegrate offenders.
Of course these are all interesting - and potentially contentious - ideas.
But in some cases they may also need extra resources.
'Prison works'
Mr Opperman argues the upfront costs of action on literacy and drugs will repay themselves by preventing the "revolving door" of reoffending.
But the Justice Secretary Chris Grayling has said he wants to bring down the costs of prisons. And he has said he has no particular aim to cut the number of inmates.
It remains unclear then how much time the minister who said "prison works" will have for Mr Opperman's suggestions.
In addition, there has been criticism that government cuts have already hit existing rehabilitation programmes.
But Mr Opperman believes the crisis in the prisons service offers an opportunity to recognise the problems and seek radical solutions.
Not everyone will agree with his ideas, but with each inmate costing the public purse £45,000-a-year it is timely to ask whether there is a better approach.