Planespotter Paul Coppin recalls Greek spying trial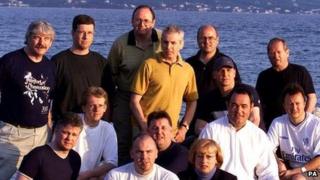 Ten years after being acquitted of spying charges in Greece, planespotter Paul Coppin admits he is still "obsessed" with collecting aircraft serial numbers - and he got into a scrape while on holiday at Cairo airport last year.
"The look on my wife Lesley's face when I came trooping down the terminal with six uniformed and plain-clothed people to show them my little book," said Mr Coppin, from Mildenhall in Suffolk.
"But they were quite happy that writing down the numbers on the planes wasn't really anything."
A decade ago it was a different matter, when the tour he was leading to Greek military bases ended in the arrest of 13 British and Dutch male aviation enthusiasts and Mrs Coppin, who had gone along on the trip.
They were picked up at Kalamata airbase in November 2001 and spent six weeks in jail while charges were brought.
'Such a farce'
They were released on bail and returned in 2002 for a trial where eight were convicted of espionage and sentenced to three years in jail.
The other six were convicted of aiding and abetting and given one-year suspended sentences.
They were all released on bail again and returned in November 2002 to have the convictions overturned on appeal, except for one of the British men who did not return to contest his aiding and abetting charge.
Taxi driver Mr Coppin, 56, said: "Even at the time a lot of it was extremely funny because it was such a farce and it's not an experience that I would have wanted to have missed."
He said, looking back, they got to experience media work, a champagne reception in the Houses of Parliament and an ITV-made a drama-documentary about the affair called Planespotters.
It was Mr Coppin's planespotting that made him decide to move from London to Mildenhall in 1991, so he could be near the US Air Force which is based at RAF Mildenhall and RAF Lakenheath.
"RAF Mildenhall is not as busy as it used to be and it's probably going to get a lot quieter when the Americans pull out of Afghanistan.
"There's about 30 new planes there each year and I like to see 3,000 a year."
While still keen to add to the 500,000 airplane serial numbers he estimates he has logged in hundreds of notebooks, Mr Coppin now concentrates on civilian rather than military planes.
However, that is not because of the Greek experience.
"I haven't shied away from it," he said. "But the amount of military aircraft that are delivered each year is miniscule, so there's nothing new to see.
"Everywhere has shrinking defence budgets, bases closing and there's just more new stuff at civilian airports because Boeing produce a new 737 every day.
"If there's stuff to see I would go anywhere in Europe, Australia, the US and Canada, but I wouldn't go military-spotting in Africa, and probably most of Asia's a bit iffy, because they just don't understand it.
"Greece should be alright because it's a European country, a Nato member and they know what aircraft enthusiasts are, but they were just too bloody-minded to admit that they'd made a mistake."
On the 10th anniversary of their acquittal, the couple went on holiday to Italy - but Mrs Coppin took her sister along so that they could go sight-seeing while her husband went spotting at airports.
Mrs Coppin accepts her husband cannot kick his planespotting habit.
"It is safer because he does more civil than he does military, so airports are fine.
"I wouldn't make an effort to discourage him - it would be like cutting the man's arms off."