Nelson's love letter to Lady Emma Hamilton goes to auction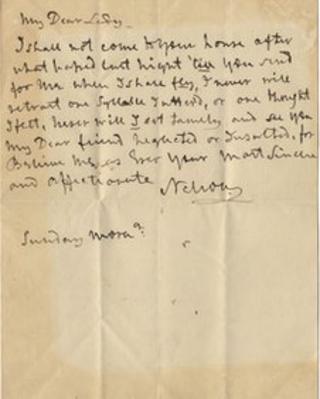 A letter from Admiral Lord Nelson to his lover Lady Emma Hamilton is to be auctioned in London.
Bonham's said the letter to his mistress is expected to fetch between £6,000 and £8,000. The letter was originally sold in 1959 for £130.
In the letter, believed to have been written between late November 1801 and early January 1802, Nelson promises to defend Lady Hamilton's integrity.
Nelson was born in Burnham Thorpe in Norfolk in 1758.
At the time the letter has been roughly dated, Emma Hamilton had given birth to their child Horatia and their affair was public.
'Sincere and affectionate'
Nelson begins the letter: "My Dear Lady", and goes on to say: "I shall not come to your house after what happened last night, 'till you send for me, when I shall fly.
"I never will retract one syllable I uttered, or one thought I felt.
"Never will I sit tamely and see you My Dear friend neglected or insulted."
He then signs it "your most sincere and affectionate, Nelson."
Despite his wife Fanny's demands, he refused to give up Emma as his mistress and inflamed the scandal further by choosing to live with Emma and their daughter when he returned from sea.
During the scandal, Nelson wanted Emma to destroy the letters sent between them.
Emma, however, chose to keep the letters, which were eventually published in 1814, nine years after Nelson's death.
A spokesperson for Bonham's said: "This was probably, in emotional terms, the most turbulent period of Nelson's life.
"He spent his time in London with the Hamiltons being feted as a hero of the [Battle of] the Nile, and, in equal measure, being ridiculed as infatuated dupe of Emma."