Edward Seago painting sale exceeds Bonhams' estimate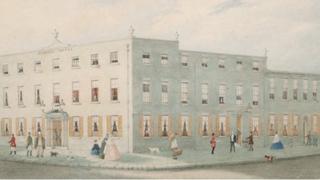 A painting of a riverside pub in Suffolk has exceeded its estimated sale price at auction in London.
Bonhams had listed Edward Seago's The Butt & Oyster, Pin Mill at £20-30,000, but it has sold for £39,650.
The oil painting featured in an auction of East Anglian pictures held in Knightsbridge.
A painting of Dedham by the Essex artist Alfred Munnings, which was also estimated at £20-30,000, failed to sell.
The painting by Seago (1910-1974), who was born in Norwich and was a self-taught artist, was sold to a private buyer based in the UK.
David Wright, a picture specialist at Bonhams's office in Bury St Edmunds, was "delighted" with the sale.
'Prolific'
"It's reflective of Seago's continued appeal - he was a keen sailor and Pin Mill became one of his favourite subjects which he painted on many occasions," he said.
"Artists such as Munnings have sold for a million before, but Edward Seago is probably the most saleable East Anglian artist at the moment, not counting the giants such as Constable and Gainsborough who don't come up for auction very often.
"Seago was a prolific artist and over the past 10 years his prices have risen and risen."
The Munnings oil painting, called Landscape with Sheep, Dedham was painted in about 1942 as a wedding present for Norwich furrier Michael Carr and his wife Elizabeth.
Other items included Sunrise, Orwell Estuary (1989) by Maggi Hambling, which sold for its upper estimated value of £2,500 and a drawing by Ipswich-based Daily Express cartoonist Giles called To Harold, This Flattering Epic which fetched £1,000.
The Ipswich and Colchester Museums Service made a successful bid for an 1859 painting of what is now an outdoors and camping shop in Ipswich town centre.
The service will pay £1,750 for The Great White Horse Hotel by Henry Davey, which was estimated to sell for £1,000-£1,500.
The building on Tavern Street featured in The Pickwick Papers by Charles Dickens.