Cheshire PCC election: Conservative John Dwyer wins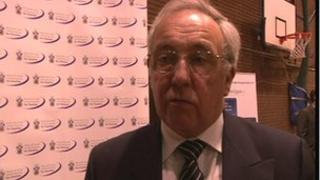 Conservative John Dwyer has been elected Cheshire's first police and crime commissioner (PCC).
Mr Dwyer beat Labour's John Stockton after second preference votes were counted when neither managed to get 50% of the vote.
He will be on a salary of £75,000 and responsible for setting priorities for Cheshire Police, overseeing its budget and hiring the chief constable.
The turnout in Cheshire overall was 13.7%.
Mr Dwyer, a former assistant chief constable of Cheshire Constabulary, won the second preference vote with 56.5% of votes to Mr Stockton's 43.5%.
The 62-year-old who retired from the police force 11 years ago said he was "exhilarated" to be elected.
"I know it's a big job and it is a hard job but I know I am capable of doing it. The hard work starts on Monday."
He said: "The focus for me is about representing the people of Cheshire inside the police service to make sure the needs of the people of Cheshire are being delivered."
He said he had never worked with Cheshire's Chief Constable David Whatton and added that their relationship would be "professional but not cosy".
In the first count, Mr Dwyer received 40,122 (36.84%) votes, Mr Stockton, an executive board member for Halton Borough Council, got 30,974 (28.44%) and Sarah Flannery (Independent) received 18,596 (17.08%).
Liberal Democrat Ainsley Arnold received 10,653 (9.78%) votes with the UK Independence Party's Louise Bours polling 8,557 (7.86%) votes.